Continuum: Contemporary Native American Art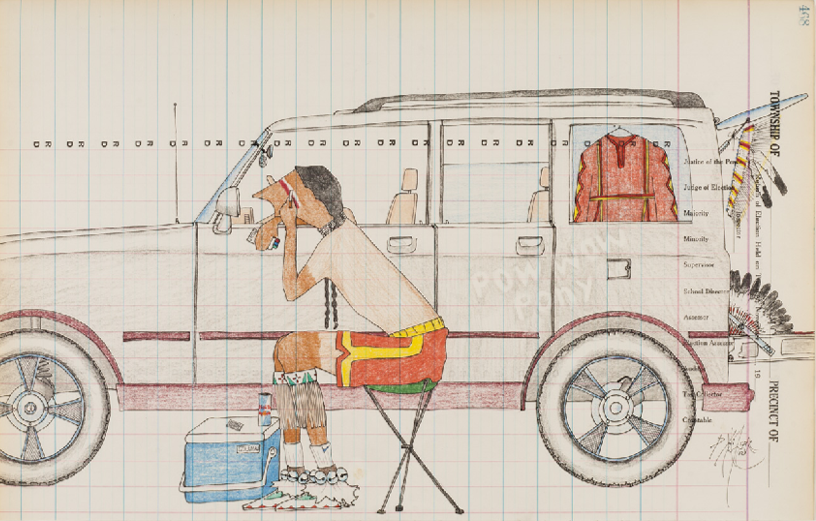 "Continuum: Contemporary Native American Art", Main Gallery
(image by Dwayne Wilcox (Oglala Lakota) "Put On My Face", colored pencil on ledger paper, 2012
This traveling exhibition, on view at the Carbon County Arts Guild, includes work by Neal Ambrose-Smith, Corwin Clairmont, Jason Elliot Clark, Ric Gendron, John Hitchcock, George Longfish, Neil Parsons, Ernie Pepion, Sara Siestreem, Duane Slick, Jaune Quick-to-See Smith, Larry Thomas, Marie Watt, Dwayne Wilcox, and Melanie Yazzie.
"Continuum" is a joint project organized by Missoula Art Museum (MAM) and Salish Kootenai College. Curator Nikolyn Garner says about the exhibition, "The artists featured in this show represent diverse tribes and life experiences, both on-and-off Reservations. They utilize many techniques in the artwork and have individual voices and means of expression. Yet, they also express the connections between cultures and the continuum's that run through the contemporary experiences of all American Indians. This exhibition, "Continuum", reflects the continually developing, adapting, and exploratory voices of contemporary American Indian artists."
This exhibition is sponsored by the Montana Art Gallery Directors Association (MAGDA), a statewide service organization for non-profit museums and galleries, and supported in part by grants from the Montana Arts Council, a state agency funded by the State of Montana; Montana's Cultural and Aesthetic Projects Trust Fund; and the National Endowment for the Arts.