Mission
The Carbon County Arts Guild & Depot Gallery provides access to art, supports artistic expression, and encourages creative experiences for the enrichment of our community.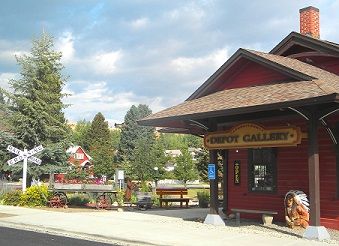 Past
Founded in 1973 by enthusiastic and forward thinking Carbon County citizens, the Guild originally operated from the County Courthouse Annex.  Initially members focused on acquiring equipment, holding classes and fundraising.  In 1982, after several moves and searching for a dedicated space, the Burlington Northern Railroad miraculously donated the Red Lodge depot to the Guild.  Built in 1889, this classic Craftsman style depot had provided many passengers their first glimpse of Red Lodge and the Beartooths Mountains.  Thanks to the State Legislature, Exxon, Pacific Hide and Salvage, Burlington Northern along with other individual and business donations, additional refurbishment was possible, and the much-loved red caboose was installed adjacent to the Depot and Lions Park.  
Since 1973, a vibrant arts center has evolved to include retail and gallery space, along with plans to further renovate and improve the facility so that the Guild's mission and growth continue in years to come.
Present
As a nonprofit organization the Carbon County Arts Guild & Depot Gallery continues to grow with nearly 400 members including artists and enthusiasts alike. The Guild prides itself on being a small-town art organization representing regional artists while being available to residents and visitors in south central Montana and Northern Wyoming. 
The Guild is dedicated to building and maintaining a venue that supports the arts and culture while preserving the historic train depot that is our home.
Programs and exhibitions are organized by the Carbon County Arts Guild & Depot Gallery which is supported in part by grants from the Montana Arts Council, the Coal Tax Trust Fund for Cultural and Aesthetic Projects, and the National Endowment for the Arts.