POP Cars by Mack Schroer, Sponsored by North Dakota Art Gallery Assoc. and Montana Art Gallery Directors Assoc.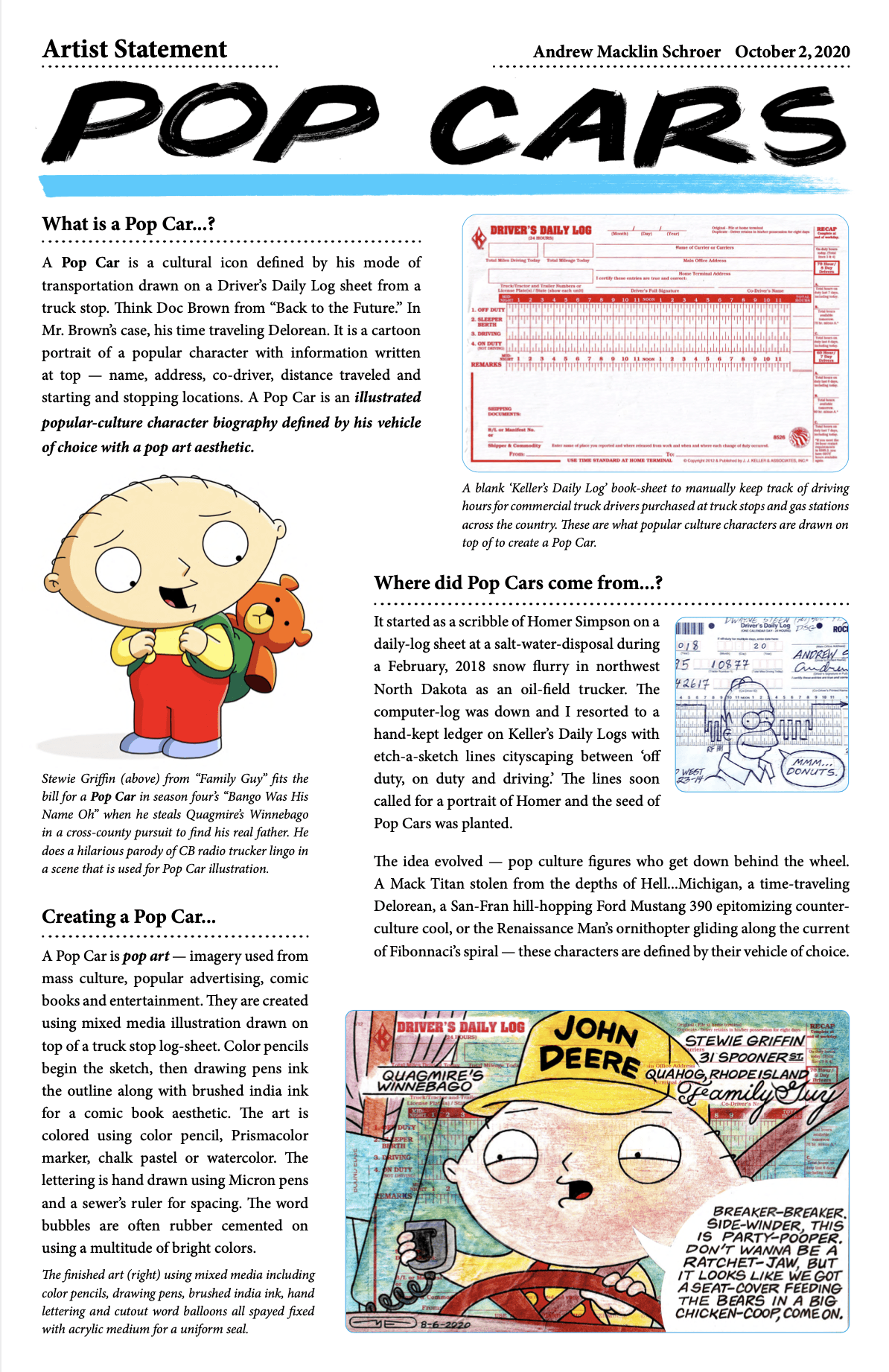 This traveling exhibition is on view in the main gallery at the Carbon County Arts Guild.
"Pop Cars" started as a scribble of Homer Simpson on a daily-log sheet in February 2018 during a snow flurry in northwest North Dakota. Those lines etched on the back of a trucker's daily log sheet soon called for a portrait of Homer and the seed for Pop Cars was planted. From there, the idea grew to encompass other pop culture figures who could get behind the "Pop Car" wheel. From a time-traveling Delorean to the Renaissance Man's ornithopter gliding along the current of Fibonacci's spiral, each of the characters that Schroer places in his artwork are defined by their choice of vehicle.
A "Pop Car" is an illustrated popular-culture character biography defined by his vehicle of choice with a pop art aesthetic. It fits into the larger genre of pop art-imagery used from mass culture, popular advertising, comic books, and entertainment. They are created using mixed media illustration drawn on top of the truck stop log-sheet. Color pencils begin the sketch, then drawing pens ink the outline along with brushed India ink to give the artwork the comic book aesthetic. The art is colored using colored pencil, Prismacolor marker, chalk pastel, or watercolor. The lettering is hand drawn using Micron pens and a sewer's ruler for spacing. The word bubbles are often rubber cemented on using a multitude of bright colors.
Mack found his calling on a ranch in Berryton, Kansas through comic books and animation. His love for visual narrative evolved in illustration, 2D animation, and graphic design. He graduated from Washburn University with a Bachelors of Fine Arts in Studio Art and Digital Design. At Rockhaven Films, he helped direct the company's message through graphic design, writing and storyboarding, and motion graphic animation. Mack was awarded over twenty design and web awards by the Kansas Press Association for his work at the Osage County Herald-Chronicle newspaper including the 2015 Kansas Advertisement Designer of the Year. Mack currently works as an independent artist working in illustration, oil painting, 2D Animation, storyboarding, set design, window painting, creative writing and acting at Macklin Art.
This exhibition is sponsored by the Montana Art Gallery Directors Association (MAGDA), a statewide service organization for non-profit museums & galleries, and supported in part by grants from the Montana Arts Council, a state agency funded by the State of Montana; coal severance taxes paid based upon coal mined in Montana and deposited in Montana's Cultural and Aesthetic Projects Trust Fund; and the National Endowment for the Arts.
"Pop Cars" is organized by the North Dakota Art Gallery Association (NDAGA), a nonprofit organization of galleries from the Upper Midwest that organizes touring exhibitions from artist and institutional proposals, holds workshops and events, and promotes the arts.