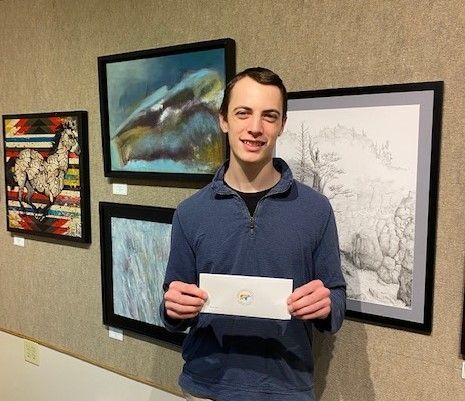 CONGRATULATIONS!
On behalf of the Carbon County Arts Guild & Depot Gallery Scholarship Committee, Battista Eaton is the recipient of a $1,000 scholarship. This award is granted to a deserving high school or college student from Carbon County pursuing a visual arts degree or a career in an art-related field.
The Scholarship Committee, Board of Directors and staff is thrilled at being able to assist Battista in his pursuit of an art-related career. As a past recipient of the scholarship, we applaud the artistic growth that is quite apparent in his application as well as by the accolades from his Rocky Mountain College professors.
It is Battista's dream to become an art history educator. About this career path he says, "As an art major, my ultimate goal is to become a university/college professor and teach as many people as I can about the part of life I love the most. Through my studies I hope to discover more about the nuances of the techniques used by artists throughout history to provide and plethora of new and interesting ideas to my future students."
The Arts Guild Board of Directors and staff believe that art education is a large and significant part of our daily mission. Because of that we are sincerely committed to helping students like Battista fulfill their dreams of lives enriched with art.
Again, congratulations!