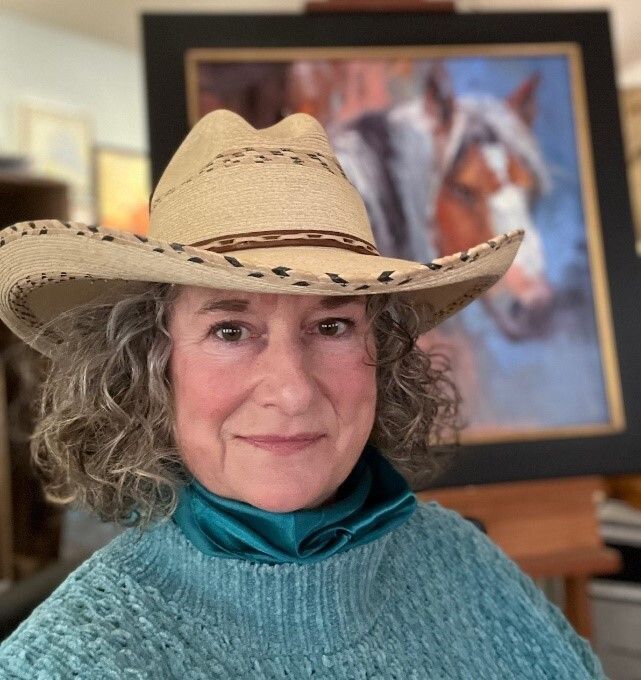 To celebrate the 2023 Art in the Beartooths, we chatted with our Quick Finish artists to get some insight into their backgrounds and creative processes. Here's what Shirle Wempner had to say about her art...
Where are you from and how does that affect your work?
I was born in Billings and raised on a horse ranch located east of Billings. I spent many hours in the saddle beside my father inspecting cattle operations, attending brandings, performing at local horse shows, and training the yearlings we raised for sale. My experiences growing up on the ranch resulted in a great appreciation of nature and encouraged me to put to canvas the inspiration I received on a day-to-day basis. Working predominately in oils and utilizing broad-brush strokes and palette knife techniques, I create a feeling of impressionistic realism, concentrating on a painterly representation of the subject matter. My desired subjects are wildlife, western and figurative representations, incorporating contemporary and historical themes.
Who are your main artistic influences?
I like all kinds of art; realism, abstract, impressionistic, contemporary, but I'm mostly drawn to impressionistic/contemporary and subjects that are suggested rather than detailed, as I like to become part of the piece of art I'm looking at or creating and invite others to explore the canvas. I'm inspired by work that keeps me coming back for more information or feelings about the piece. Some of my favorite artists are the Russian Impressionists, the California Impressionists, Nicholai Fetchin, Sorolla, Monet, Van Gogh, to name a few.
Tell us about your favorite medium.
I paint primarily in oils, and I love the "forgiveness" allowed in working with oils. I like to sometime mix my paints directly on the canvas, and I also like to scrape and manipulate the oils as I'm creating. I usually approach my work with a brief idea of what I want to do and then let the ideas, color, and technique adjust as the painting evolves. This way I can keep my pieces fresh and exciting for me as I complete them.
When is your favorite time of day to create?
Since I am painting full-time, I can adjust my painting/studio time as I'm inspired or depending on what else I may have planned for the day. Living on a ranch with horses and other critters to take care of, I usually take care of them first and then I move into my studio. I will spend 5 to 6 hours a day working in the studio, sometimes devoting several days on a series of pieces and then give myself a break for a day or two. I typically like to have two to three pieces going at the same time to allow for paint to dry, or to take a step away from one piece and look at it later with fresh eyes. As a rule, I try to spend some time every day in the studio.
Does art help you in other areas of your life?
I would have to say, definitely yes. Art is so much a part of me now that I cannot imagine not painting or not doing something creative. I look at everything around me and constantly see paintings, exploring compositions, colors and their relationships with each other. Discussing creative endeavors with others can be enlightening and inspirational, and one can always have a conversation about art even if you don't know each other or come from completely different backgrounds. It's like a universal language and I believe it can bring people together and inspire greatness in all of us.
Join us on July 8, 2023 at the Red Lodge Mountain Golf Course from 10am - 2pm to watch Shirle create her art in person. Enjoy sweet and savory finger food and complimentary beverages while you mix and mingle and watch as Shirle and the other artists put the finishing touches on their art. Then raise your paddle to bid on the work during the live auction. Purchase your tickets HERE.
View and bid on Shirle's Silent Auction artworks Big Ben and Just Sit'n Around.