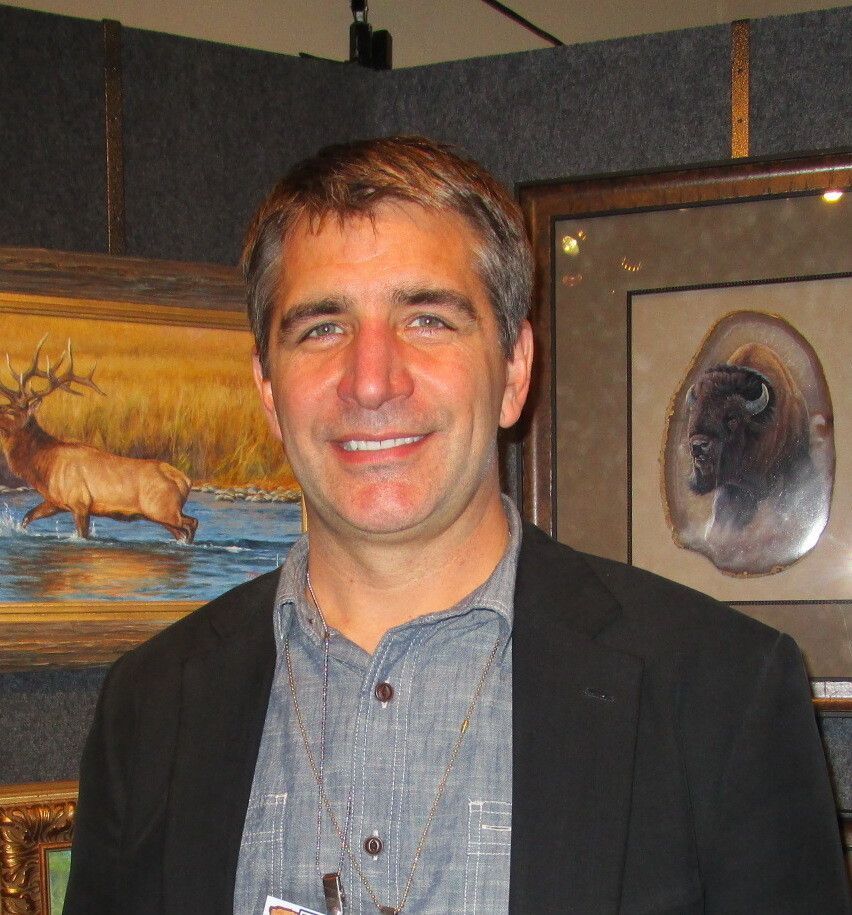 To celebrate the 2023 Art in the Beartooths, we chatted with our Quick Finish artists to get some insight into their backgrounds and creative processes. Here's what Cliff Rossberg had to say about his art...
Where are you from and how does that affect your work?
I am a lifelong Montana Resident. I currently live along the Missouri River where I have a separate studio from my home. Growing up, my dad introduced me to the outdoors and its inhabitants. I have always been intrigued with the variety of animals, birds and critters that can be seen in Montana alone. I have always been inspired by the lands these animals live in and from an early age wanted to recreate that on paper/canvas. So growing up in Montana has definitely shaped me into the artist I am. I paint a variety of animals amongst the variety of landscape they live in. I would say the bulk of my work features animals but I do paint some landscapes as well as more western images like tipis and landmarks.
Who are your main artistic influences?
Without a doubt my early influence is C.M.Russell. I grew up in Great Falls, MT and the Russell Museum is a huge presence in the community. I enjoyed going to the annual Russell auction and loved visiting with the artists at that show. Later influences to my work are artists Bob Kuhn, Tucker Smith and Robert Bateman.
I think as I grow and learn as an artist my tastes are always changing and thus I continue to be influenced by other artists but more specifically my own artistic experiences. For instance, I recently did a commission piece of the Milky Way for a collector. Not a normal subject for me, however; that painting has become the genesis for a lot of new works.
Tell us about your favorite medium.
I paint in both oils and acrylics but without a doubt, Oils are my preferred medium. I prefer oils simply due to their vivid color and luster and the ability to work and blend them for hours to days. Oils also allow for a much larger spectrum of color and more values options then acrylics.
I also love oils because I will be a lifelong student learning new techniques and ways to apply oil paint. I learn every time I paint in oils so that if always cool and challenging.
In my opinion nothing compares to a varnished oil painting, the luster, the life it gives off. Oils are messy and stinky so that is the only advantage I see for acrylics. Acrylics are fast drying and water based thus easier to work with and clean up.
When is your favorite time of day to create?
I think morning after a workout is best. My mind is more clear and organized then and I know I have all day to paint so I don't need to rush anything. It also helps if I have a good idea organized and planned in my mind and I can stay focused on that idea and I don't second guess things like composition or subject matter.
Who are your main artistic influences
Without a doubt! I think you spend so much time behind an easel alone with your thoughts that you really appreciate personal relationships when you're not painting. I seem to really enjoy my relationships with family and good friends and those times of being together because of being alone so much. I think art has also really helped me to appreciate the little things in life: a sunset, a cloud formation, the way moonlight dances off the snow, a chickadee on a frosty branch.... nature in general I find fascinating and amazing and probably appreciate it more since I paint!
Join us on July 8, 2023 at the Red Lodge Mountain Golf Course from 10am - 2pm to watch Cliff create his art in person. Enjoy sweet and savory finger food and complimentary beverages while you mix and mingle and watch as Cliff and the other artists put the finishing touches on their art. Then raise your paddle to bid on the work during the live auction. Purchase your tickets HERE.
View and bid on Cliff's Silent Auction artworks Just A Glance and Lake McDonald Sunset.